NEW Bonuses and Promotions effective December 26th 2022 – March 26th 2023
Now for all of the BIG NEWS from Isagenix!
---
BIG NEWS FOR ASSOCIATES
20% PIB
Monday, Dec. 26, 2022 – Sunday, March 26, 2023* 
Earn 20% Commission for every new Customer order*
Enjoy full Business Volume (BV)* 
CLICK HERE for detailed Information
NEW Big Picture Comp Plan Video
---
BIG NEWS FOR BUILDERS
CRYSTAL RESET
Missed your window to achieve a prestigious Crystal milestone? You're in luck! Push the "reset" button for another chance to hit all Crystal milestones and earn up to $2,000 in Crystal Bonuses.*
Open to All:
Whether you're an established Leader or just getting started, everyone can reset!
When to Reset:
Monday, Dec. 26, 2022 (12 a.m. ET) – Monday, June 26, 2023 (11:59 p.m. ET)
Bonuses:
Crystal Reset Bonuses are based on your Recognition Rank as of Dec. 26, 2022.
CLICK HERE for all the details.
---
BIG NEWS FOR NEW CUSTOMERS
10% OFF 12/26/22 – 1/9/23 joining in United States, Canada, Puerto Rico, Europe & Mexico
Every new Customer who joins Isagenix on Subscription Rewards and purchases US$175/CA$195 or more between December 26, 2022 – January 9, 2023 will enjoy 10% OFF their initial order!*
FREE GIFT
Step 1
For a limited time, join Isagenix with Subscription Rewards, which allows you to save up to 15% on your purchases and enjoy flat-rate shipping.
Step 2
Make a purchase of $175 or more between Dec. 26, 2022 – March 31, 2023.
That's it! Follow those 2 steps and they'll receive a FREE gift from Isagenix.*
January gift with purchase: Adaptogen Elixir 10 count**
CLICK HERE for detailed information.
---
BIG NEWS FOR ALL MEMBERS
New IsaBody Program
IsaBody Challenge App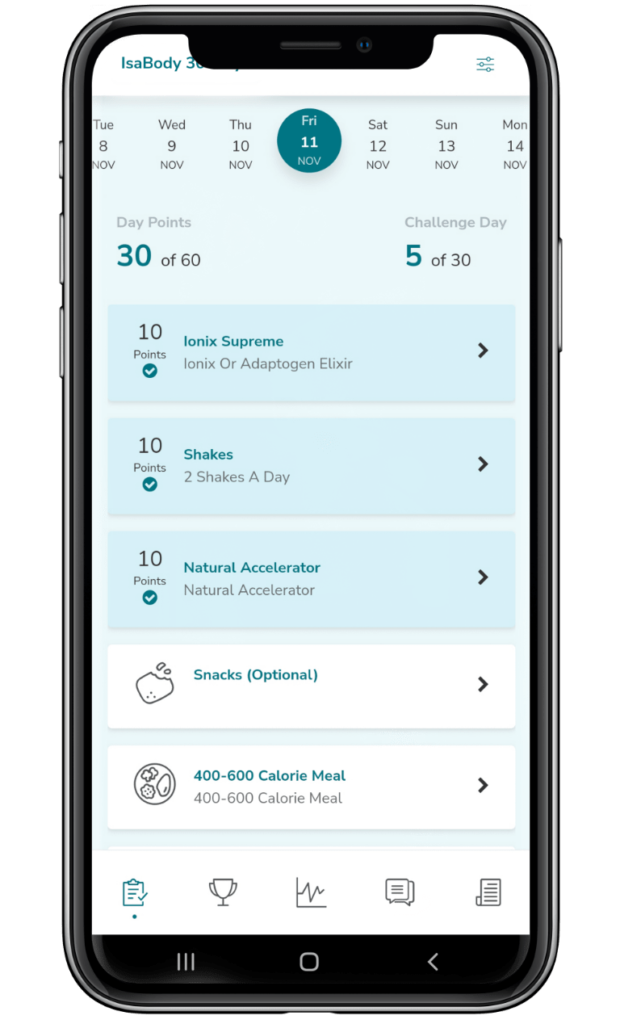 Daily Tasks
Leaderboard
Progress
Community
Wellness Portal
Connect with like-minded individuals
Track progress
Climb the leaderboard
Build healthy habits
Go beyond goals
30-Day Reset Pack
Get all the details @ https://powerplayers.com/30-day-kickstart/
New Year Tool Kit
PRODUCTS

30-DAY SYSTEM
NATURAL ACCELERATOR
PLANT-BASED ISALEAN BARS
GENERAL TOOLS

PROMOTIONS

10% Off New Customer Orders until 1/22/23

PROGRAMS

30-Day Kickstart

Details & Registration
Download the App

Business Tools
NEW PRODUCTS
30-Day Reset
The original 30-Day Basic Pack you know and love has been completely transformed to help even more people reset their resolutions. Enhanced packaging, a brand-new guide, and an upgraded Natural Accelerator are all part of this clinically validated system designed to help people lose weight (and keep it off!), fight cravings, increase lean muscle mass, improve nutrition, stress less, sleep better, and so much more.
What's Inside the 30-Day Reset:
IsaLean® Shake
Cleanse for Life®
Ionix® Supreme or Adaptogen Elixir
Cleanse Day-approved snack
IsaFlush®
Reformulated Natural Accelerator™
30-Day Reset Guide with easy-to-follow instructions and helpful tips
Subscription Rewards: US$299/CA$329 NFR
Preferred Customer: US$299/CA$329 NFR
Guest: US$349/CA$389 NFR
BV: 198
Plant-Based IsaLean® Bars
They're back with an incredible new formula and two brand-new flavors, our Plant-Based IsaLean Bars make fighting cravings extremely satisfying. Grab one on-the-go to enjoy premium nutrition that tastes amazing.
15 grams of plant-based protein
Great tasting, balanced nutrition on the go
Simple, wholesome ingredients that help keep you satisfied for hours
Flavors and Nutrition Information
Chocolate Fudge Brownie | Cinnamon Churro
Subscription Rewards: US$39/CA$43 NFR
Preferred Customer: US$39/CA$43 NFR
Guest: US$46/CA$51 NFR
BV: 25
Natural Accelerator
The original Natural Accelerator has a completely upgraded formula! This clinically validated ingredient blend enhances metabolism support and features Sinetrol—a patented and studied ingredient that powerfully supports fat burning—combined with thermogenic botanicals like cayenne, lemon verbena, and guarana to assist in weight loss.*
Helps fat burning with clinically studied citrus extracts*
Assists in increasing thermogenesis*
Boosts metabolism with natural botanicals and a hint of naturally occurring caffeine*
*These statements have not been evaluated by the Food and Drug Administration. These products are not intended to diagnose, treat, cure, or prevent any disease.
Subscription Rewards: US$29/CA$32 NFR
Preferred Customer: US$29/CA$32 NFR
Guest: US$34/CA$38 NFR
BV: 19
Want More Details? Check our the Recordings Below
Watch the All-Associate Zoom call Live on Facebook
Recorded Live 12/15/22 @ 7 pm ET
Or Watch the ZOOM Recording Here
Redefine Your Business in 2023 Training
(from Super Saturday Recorded 12/17/22)
---
---
ISAGENIX CORPORATE EVENTS
CELEBRATION Jul 13-16 Orlando FL
POWER PLAYERS TEAM EVENTS
Lunch & Learn Power Hour
Join us for our Next Super Saturday 1/21 at 10 am PT / 1 pm ET