The Power Players Weekly Team Call is moving. New time, new format!
Turn Your Lunch Hour into a Power Hour. Join us every Wednesday at 11 am PT – 2 pm ET starting January 11th.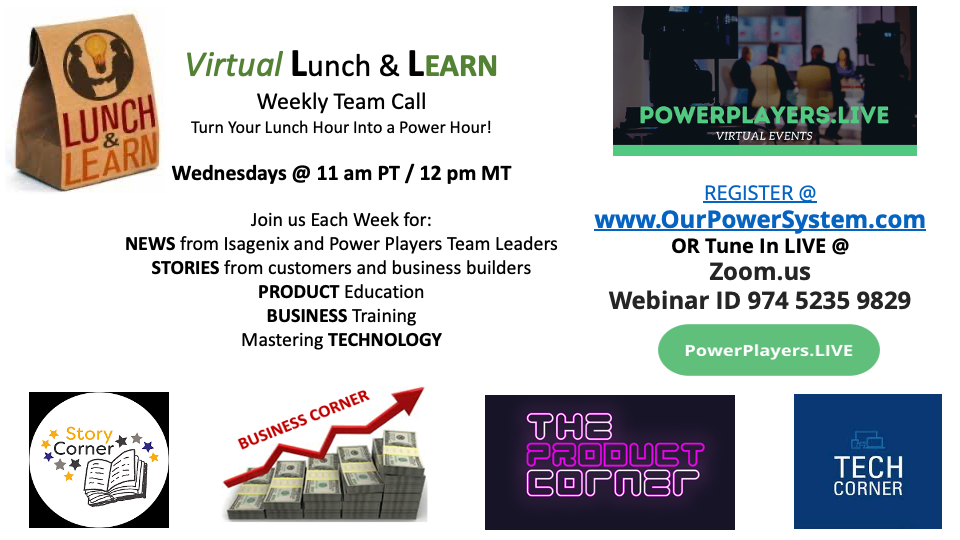 NEW FORMAT
NEWS: Get all the latest every week on news, events, and more.
STORY CORNER: Hear stories from people having success with the Isagenix products, business, or both!
BUSINESS CORNER: Training from top leaders to help you become a master of your business.
PRODUCT CORNER: Each week we will spotlight a different Isagenix product.
TECH CORNER: Master Technology one week at a time as we teach you about hidden secrets in your Isagenix Back Office, your Replicate Website, MyPowerSystem App, Penny App, Isalife App, and more.
Two ways to join
REGISTER @ www.OurPowerSystem.com
OR Join Live
Zoom.us
Webinar ID 974 5235 9829
https://us06web.zoom.us/j/97452359829