You can enter the IsaBody Challenge at any time. For details and to register go to www.IsaBodyChallenge.com
What is the IsaBody Challenge?
The IsaBody Challenge® is a total-body transformation program for Isagenix Customers designed to provide the community and accountability you need to empower your healthy change. Isagenix isn't just about weight loss, and neither is this Challenge. This is your opportunity to change your life for the better, whatever your goals may be.
You'll leave this program a better person than when you started. Plus, you'll receive a coupon code for FREE SWAG and US$200 of Isagenix products when you successfully complete your IsaBody Challenge! You're already using these amazing products, so why not try an Isagenix System and take advantage of the IsaBody Challenge?
IsaBody Challenge Information Videos
NOTE: You can start a Challenge at any time. Your start date will determine which Judging period you fall into. You may join back-to-back Challenges, but may participate in only one Challenge at a time.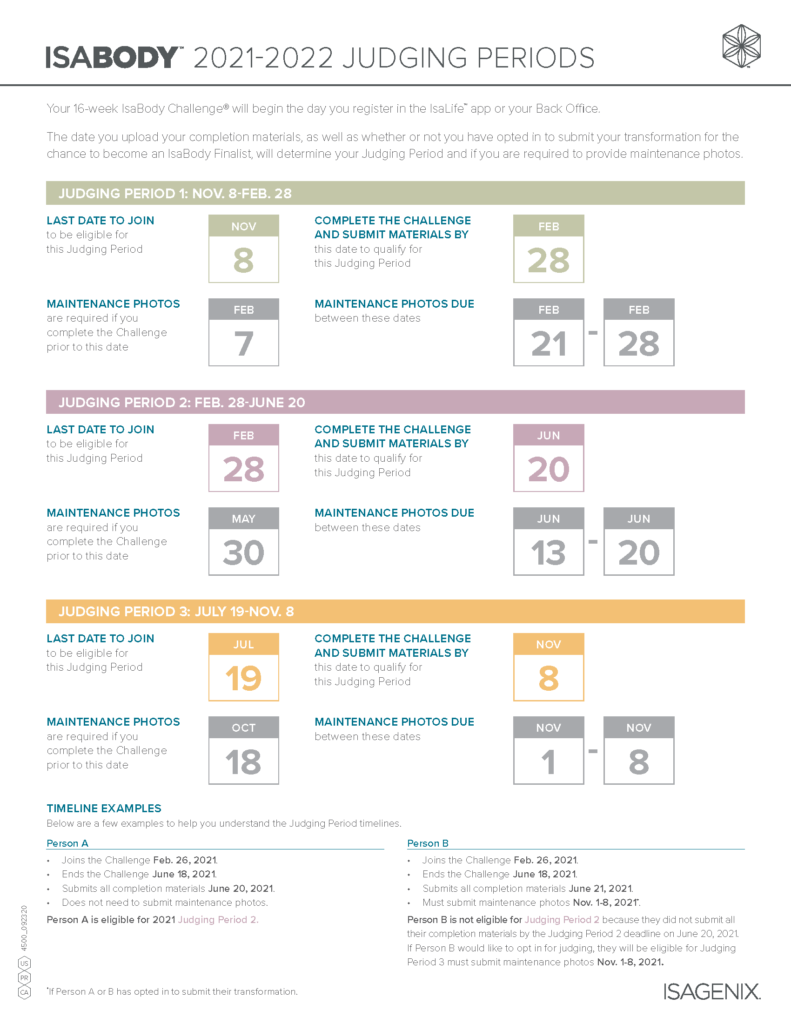 CLICK HERE for the Official Rules.

How Do I Start and Complete the IsaBody Challenge?
It's easy to start an IsaBody Challenge! Register in the IsaLife™ app or in your Back Office or contact the person who introduced you to Isagenix.
REGISTER FOR THE ISABODY CHALLENGE NOW!
Welcome to Isagenix IsaBody Resources
https://www.isagenix.com/welcome
Get to Know the Products
Achievement Awards
Everyone who completes all the requirements of the IsaBody Challenge® is rewarded a US$200 product coupon, an exclusive IsaBody Challenge item, a certificate of achievement, and the opportunity to have their story and photos shared on Isagenix.com, in company publications, and in promotional materials.
Note: To complete the IsaBody Challenge, participants must (1) purchase 500 or more BV of products for personal consumption during the 16-week Challenge period; (2) submit before photos and progress photos. The date you upload your progress photos will determine which Challenge Judging Period your entry qualifies for. See the Challenge Timeline for Judging Period time frames, and check your IsaLife™ app or Back Office for Challenge deadlines.
IsaBody Challenge Success Stories
400 LB Club Member Gains New Life
More IsaBody Success Stories
https://www.isagenix.com/isabody-challenge
Promote the Challenge to Your Entire Team and Prospective Customer and Distributor Database
There is no better way to build your business between than to let your team know about the Challenge, and to let all of your prospective customers and business partners have the opportunity to join you in the Challenge as well. Just send a link to this page.
ISABODY RESOURCES