Retail Price $844.86 (plus shipping)
Preferred Customer Price $633.65 (plus shipping)
Preferred Customer on LifeStyle Rewards $599.00 (plus shipping)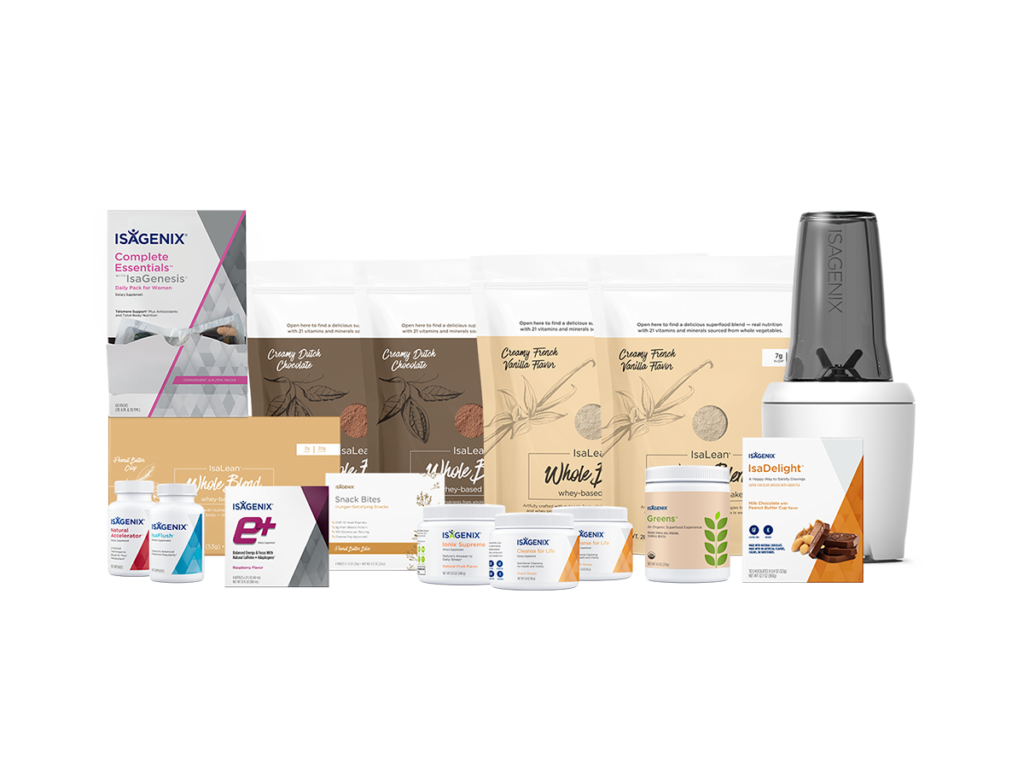 ---
You're more than a number, so what's your weight win? Miles run? Pounds down? Years added? Nothing feels as good as setting a goal and making it happen. Here's your helping hand.
A consistent routine and a proven method are the key to epic weight wins. You get both in our most popular weight loss pack.
More, because you're worth it. Our complete body transformation system — shakes, snacks, detox, and all. Go for it.
Complete essentials. We added A.M. and P.M. vitamin packs of Complete Essentials™ With IsaGenesis® to give this pack even more value.
Bonuses are bonus. The Value Pack includes a US$75 event voucher AND a US$25 coupon for any product you choose.
18 years of proof. Thousands of lives improved. Hundreds of thousands of pounds down. Fully satisfaction guaranteed.
It just fits. This is a transformation that fits your busy lifestyle.
REFER YOUR FRIENDS AND GET YOUR PACK FOR FREE!
With all of our Isagenix packs if you refer THREE friends, you will cover the cost of your pack. Here is a great video showing what you can earn just by referring two friends. You can earn $500 back on your $599 pack by referring TWO friends… but $700 back by referring THREE.
What's Inside Your Pack?
IsaLean® Shake
A delicious superfood meal replacement with high-quality protein and essential nutrients.
Cleanse for Life®
Nutritional support for your body's natural detox systems — an absolute must for Cleanse Days!*
Ionix® Supreme
Botanical adaptogens and rich nutrients to combat the negative effects of stress.*
e+™
A long-lasting, flavorful energy shot made with naturally sourced, plant-based caffeine and adaptogens.*
Isagenix PROMiXX™ Blender
Powerful performance, elegant design, and easy to use for a perfectly blended shake.
IsaLean Bar
A delicious, nutritious, and easy meal on the go. Available in many different flavors and plant-based options.
Complete Essentials™ With IsaGenesis®
A daily pack to achieve optimal intake of vitamins and minerals, omega-3s, antioxidants, and incredible nutrients.
IsaDelight® Super-Chocolate
Individually packaged chocolates with green tea extract, amino acids, and antioxidants to help satisfy cravings.
Organic Greens
A superfood experience with two full servings of organic vegetables — organic kale, spinach, turmeric, chlorella, spirulina, and more.
Whey Thins™
Tasty and crunchy protein-packed snacks in convenient 100-calorie individual packs to satisfy cravings.
Cleanse Support Bundle: Natural Accelerator™, IsaFlush®, and Isagenix Snacks™
This bundle gives you the support you need during a Cleanse Day! These products keep you on track and help you win the day.
Join the Isagenix IsaBody Challenge and earn even more!
LEARN MORE about all IsaBody Programs
LEARN MORE about the 16-Week IsaBody Challenge
CHECK OUT all of our Weight Loss Packs