2022 Events
Power Players Team Calls have moved to a new day for 2022.
Join us for Power Night on Wednesday Nights at 6 pm PT / 9 pm ET
Join us for our monthly Super Saturday Training on the 2nd or 3rd Saturday of the month.
Details on all calls below.
See you there!
CLICK HERE to View our Full Event Calendar
VIRTUAL EVENTS
Power Players Virtual Events are hosted by top Isagenix leaders and income earners on the Power Players Team and include special guests who are experts in their fields.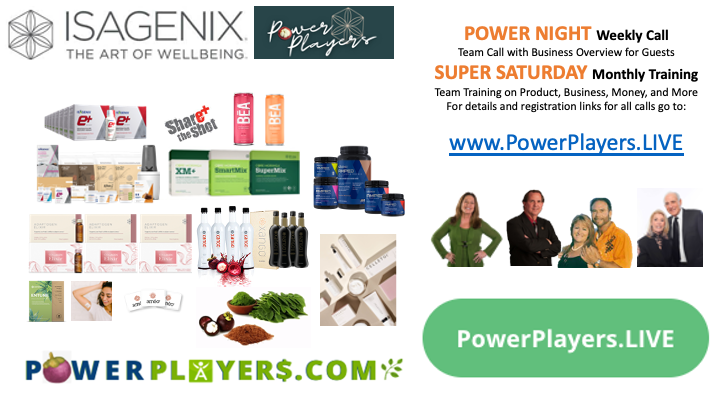 Weekly Team Call
Power Nights
Every Wednesday Night at 7 pm MT
Team Updates with an Isagenix Product or Business Overview
ZOOM Webinar ID 974 5235 9829
REGISTER to receive weekly email reminders with link to join
Monthly Training Call
POWER PLAYERS SUPER SATURDAYS
Once a Month Training on Saturday at 11 am MT
Business & Product Training
ZOOM Webinar ID 981 8813 2229
REGISTER to receive weekly email reminders with link to join
PERIODIC Leadership Calls
Leadership Calls
Special Event Calls
BEST Opportunity Calls