RECORDING
To Register for all Super Saturday Training Webinars and other Power Players LIVE events go to www.PowerPlayers.LIVE
Super Saturday 9/18/21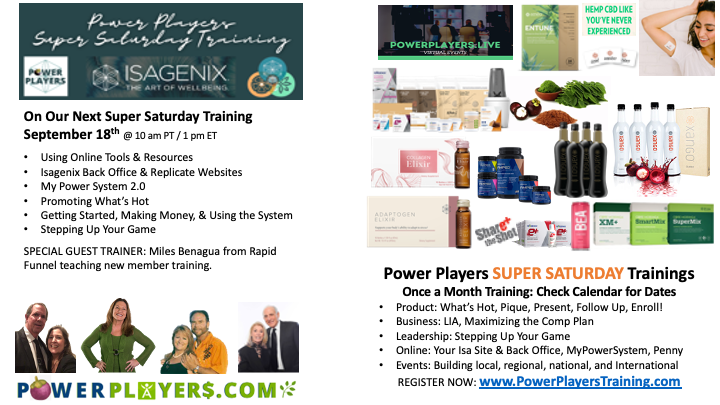 TRAINING AGENDA AND RESOURCES
MyPowerSystem
Learn how to maximize your business building efforts with the only tool built for the Xango Power Players team.
Special Guest Trainers from Rapid Funnel
Miles Benagua and Patricia Guardian, Rapid Funnel Key Account Managers and Growth Team Experts will be available for Q&A after a New User Training which will cover the following:
Get App
Account Settings
Notifications
Add a Contact
Send Resources
Personal Resources
Events
Campaign
Dashboard
Support
Comparison of Premium vs Standard
Contact Journey
Business Card
New User Training
More Rapid Funnel Resources
www.facebook.com/groups/rapidfunnelaces
MyPowerSystem Electronic Business Cards
Recognition
https://isagenixbusiness.com/recognition/
Isagenix Technology Updates
Isagenix International Update
Events
The most important Event is the Next Event! Plug into all live and virtual events hosted by Isagenix and Field Leaders.
What's HOT on PowerPlayers.com?
Hot Products & Programs